Staff Safety Solution Overview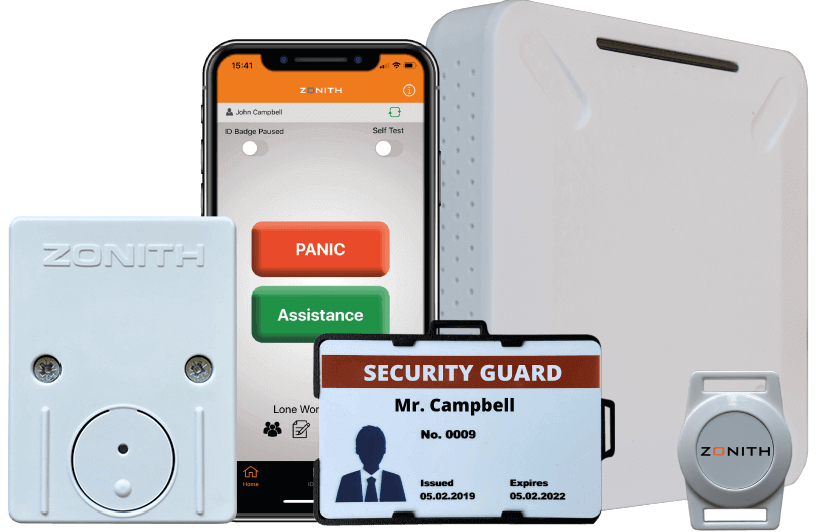 Staff and visitors wear Bluetooth ID Cardholder.
Their position will be monitored by the Bluetooth Receiver.
Bluetooth Receiver monitors the Panic alarms from ID Cardholder or fixed wireless panic buttons.
The ZONITH Solution notify about the incident on the Alarm Display, Mass Notification Pop-Up, smartphones and mountable tablets.
The ZONITH smartphone app will continuously position the user outside buildings via GPS Outdoor positioning.
Panic alarms can be raised from the smartphone but also from the SAME Bluetooth ID Cardholder as used inside. The ID Cardholder now communicates with the smartphone.
When an alarm is raised the App will pass the alarm on to the ZONITH solution. Communication via mobile network or WLAN.
The ZONITH solution will instantly notify colleagues or emergency response team in cleartext.
The notification contain detailed information about the person in distress as well as the GPS position of the person.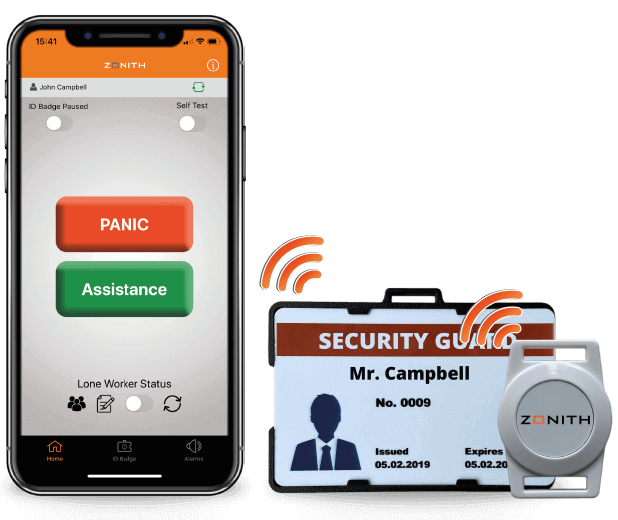 About ZONITH
ZONITH A/S was founded in 2000 by a group of Nokia engineers. Since then, ZONITH has been an independent manufacturer of software and hardware solutions, which are able to protect personnel and security staff in the workplace. First and foremost, we specialize in personal panic alarming and Lone-Worker protection using Bluetooth based indoor positioning and GPS based outdoor positioning.
Besides, ZONITH is an Danish company and we provide RTLS security services and products around Scandinavia and beyond. Most importantly, we deliver the solutions for staff who need protection against threats and violence at work, including the working environment threats. Our emergency buttons for discreet alarming are very fast, furthermore, they work both inside and outside of the buildings. We dare to say, they are the market's most flexible solution.
Among our products there are: Bluetooth alarm receiver, Bluetooth alarm sending ID cardholder, Bluetooth mountable alarm button, wearable individual alarm buttons. Last but not least, the alarm application with the lone-worker mode. Lone-workers are protected by the automatic alarm call in case of an accident. Lone-worker protection also works both inside and outside, offers precise positioning no matter where the lone-worker is.
ZONITH solutions are able to protect staff in municipalities, psychiatry, healthcare, education, industry, retail and many other areas. This makes ZONITH solution to be cost-effective, extendable and wireless and flexible.
Due to the network of active partners, ZONITH has a robust global market presence and a loyal base of customers. With reliable and proven products, technologies and services and a great team, ZONITH is without a doubt a global provider of staff safety solutions. Our website also provides brochures and downloads to update customers on our work.
On this page you can find different up to date informative materials and brochures regarding the products. Also, you can find information on services and exploitation instructions of our products, terms and policies, guides and datasheets.
You can download materials on Bluetooth Alarm Receiver, Bluetooth ID Cardholder, Bluetooth wearable panic button. Also Bluetooth mountable panic button, ZONITH android and mac application, Real time location system, Alarm control center, corridor displays.