More and more people work alone
As individuals venture into solo work environments, it becomes crucial to address the need for panic alerting systems. These systems provide a reliable means for individuals to call for help in emergency situations, ensuring their well-being and peace of mind. With the absence of immediate colleagues or supervisors nearby, a panic alerting system acts as a lifeline, bridging the gap between solitary workspaces and timely assistance. ZONITH provide a solutions for safeguarding lone-workers.
How to use the Lone-Worker Protection function
First of all, let's imagine that when you work alone, you get injured, and you are not able to call for assistance!
ZONITH's Lone-Worker App automatically calls for help whenever you can not do so yourself.
The service periodically checks if you are OK, and if you do not confirm it, it calls for help on your behalf.
Lone Worker Job Text
As an addition the lone-worker can use the Job Text option for scenarios like visiting someone in a tall building in room 726 on 7th floor. If you do a panic alarm with conventional panic alerting equipment on the market, the alarm receivers (colleagues and monitoring centre) will only get your ground-level GPS position. It might take long time to locate you on the 7th floor while speed is crucial for your safety.
With ZONITH app Job Text, you will be able to type in important details prior to which task you are set to do and that will ensure that alarm receivers will receive your GPS address and the Job Text which will help them locate you quickly.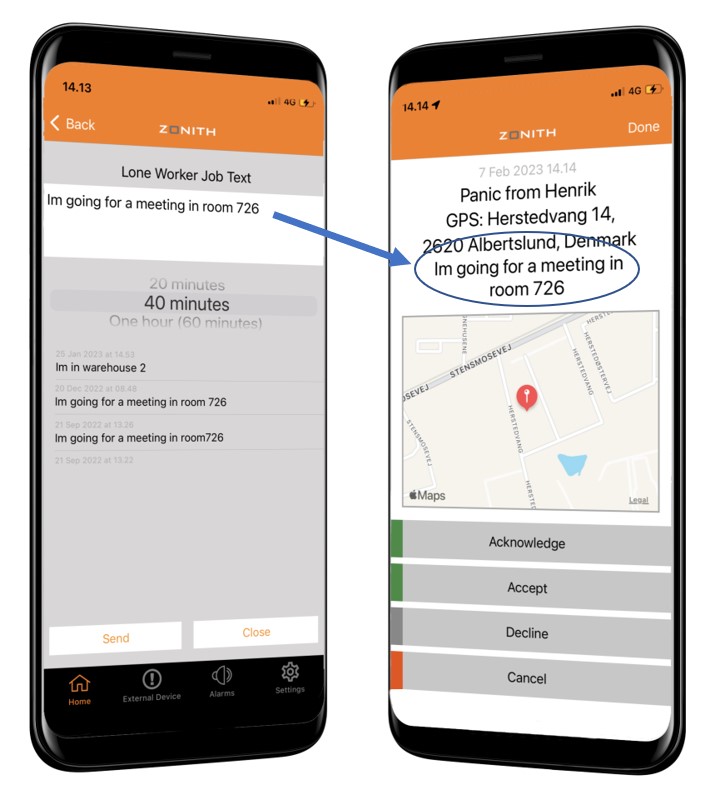 Automatic Lone-Worker protection
It is possible to define Geo-fences around a building or maybe an entire area which is considered high risk. The staff then wont have to enter the app and enable lone-worker protection manually because the Geo-fence system automatically enables the protection as soon as the staff enters the area. Staff will get a notification that their lone-worker protection is enabled. It will also automatically disable again when leaving the Geo-fenced area.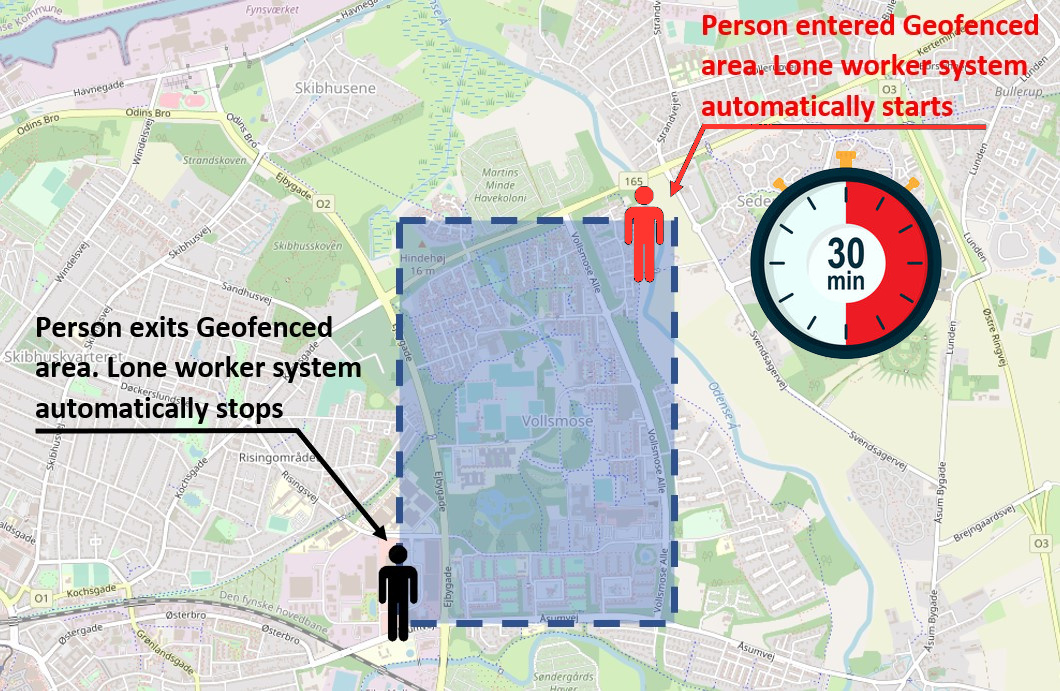 TEAMS Function
During visits and working in teams, it's a great advantage to be able to send alarms directly to colleagues in the group.With the ZONITH App's team feature, it's easy to add and remove members before a job. Assistance alarm can go to team colleagues!
Team members receive direct alerts and assistance calls from other team members. Colleagues can manage the alarms. Also alarms can be sent or passed to the next guard to the emergency response team for further assistance.
Contact our Security experts
"No matter where you are located ZONITH staff safety solutions will safeguard you!"