WIRELESS PANIC BUTTON ALERTING DEVICES
Everything you need to know about our hardware products.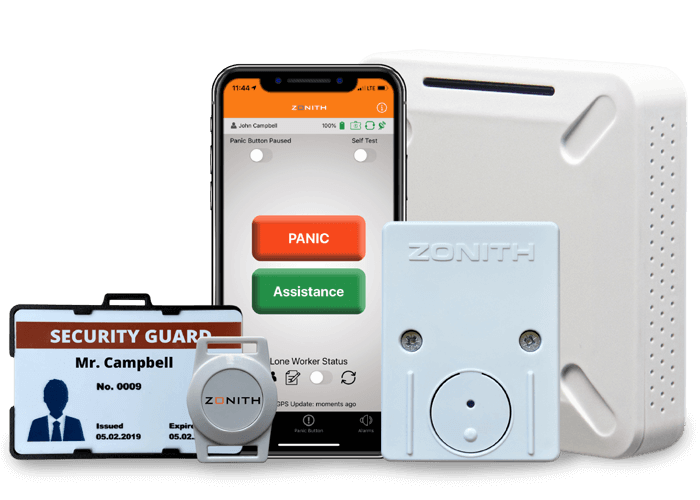 The Bluetooth ID Badge functions as a regular ID badge, whereby standard ID cards and Access Control cards can be inserted. However, the built-in wireless Bluetooth unit combined with a panic button on the back of the badge allows for discrete positioning and panic alerting. That takes staff safety to the next level.
The wireless panic button is strategically located on the back of the badge. One press triggers an alarm through the Bluetooth Receiver network. This solution is perfect for anyone working alone in volatile environments. Together with situations where visitors need to be tracked and located immediately. When an alarm is raised in a panic situation, detailed location information will be sent automatically to colleagues, security guards or other designated personnel to ensure rapid assistance.
To sum up, by combining these 3 technologies in this discreet wearable panic button, staff are safeguarded no matter where they are.
2-3 years of battery life

Easy Mounting with only 2 screws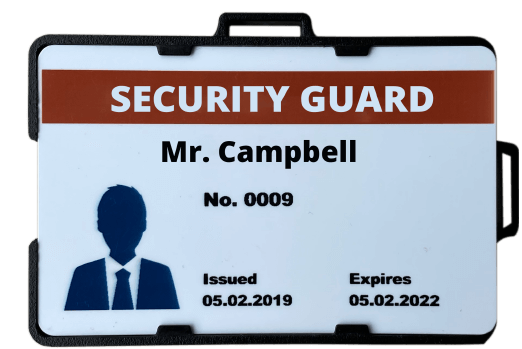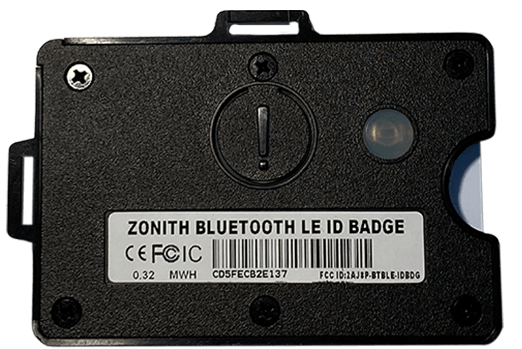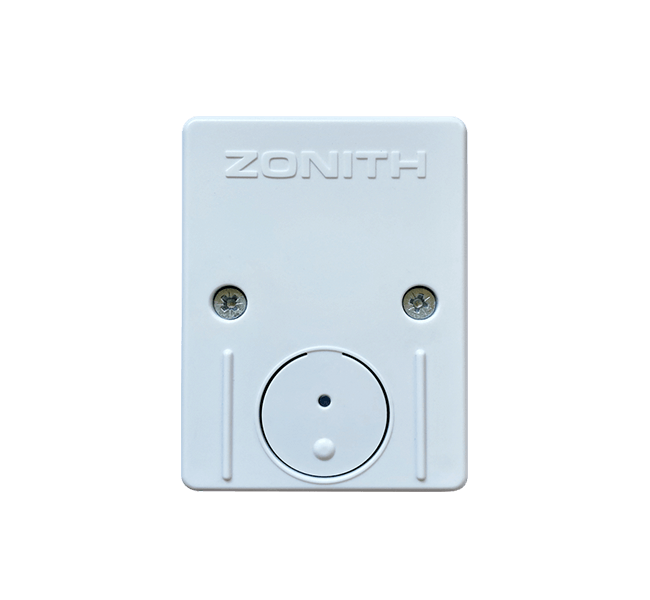 Wireless panic button alarms intended for rooms or reception areas.
In each room, you can place one or more wireless Bluetooth panic buttons depending on room size and interior. These can be installed under tables or on walls. The device is constantly monitored, so you can see its exact position, status and battery life. Battery life is an impressive 2-3 years. If a panic button is pressed, an alarm will be raised immediately, indicating from which room the alarm was activated.
Summing up, a great solution for every institution.
Wireless low energy

Long-lasting rechargeable battery

Wearable ID cardholder
The Smartphone App is capable of positioning the user both inside and outside of the buildings. What is more, transmitting panic alarms, receiving alarms, handling alarms and even providing Lone-Worker protection for those working alone.
The positioning of the Smartphone is performed by using the Real-Time Location System (RTLS) software package. For users safety, the Smartphone App ensures positioning of users indoors via Bluetooth and outdoors by GPS. When a distress situation occurs, colleagues or security personnel will immediately know where to rush to.
You can raise panic alarms by pushing the red button on the touch screen. Once the Alarm has been sent, a message will be displayed on the screen. After that,  colleagues or security personnel will be immediately notified on the monitors or their Smartphone devices.
The Smartphone App can receive panic alarms from all other smartphones, the Bluetooth ID badge or even from PC desktop generated alarms. Whatever happens, users can decide whether to accept, decline, or cancel the alarm by pressing a button on the screen.
Android and iPhone support

Large alarm button on the screen

Connects to ZONITH ID Badge serves as a physical button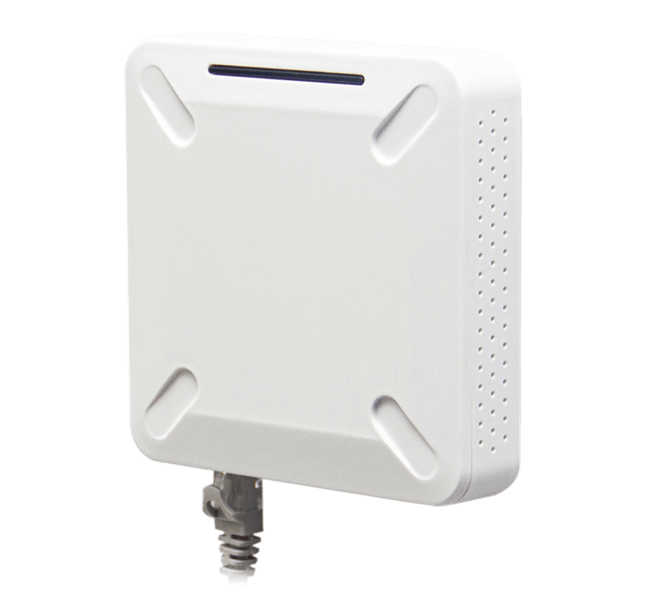 Bluetooth Receivers are the backbone of the ZONITH Indoor Positioning and Panic Alerting system. You can mount them on walls and ceilings. The ZONITH Bluetooth Receivers can locate the ZONITH Bluetooth ID Badge and other ZONITH approved Bluetooth devices.
Each Bluetooth Receiver is connected via LAN cables and sends its data to the ZONITH software packages, installed on a Windows server. Hence, the ZONITH server software monitors panic alarms from the Bluetooth ID Badge, Bluetooth Panic Button and other ZONITH approved Bluetooth devices. Further, our software package passes on these alarms to the company's security staff or any other employee that can be responsible to handle alarms.
Connects to any internet router

Lan cable and power supply included

Wireless connection with Panic buttons and ID Badge

Easy Mounting for walls/ceilings
A small device which you can always carry around and be sure that you are protected at all times! In the case of an emergency situation, you can always press a panic button and assistance will be immediately dispatched to your exact location.
INDOOR PROTECTION – To have precise location information inside the building you will need to mount our Bluetooth Receivers, which can be mounted on walls or ceilings. They will monitor your position, so whenever you call for help security guards will know your exact location.
OUTDOOR PROTECTION – For outdoor positioning, your compact panic button will automatically connect with your smartphone, through the ZONITH App. When outside the smartphone GPS position is transmitted whenever you raise the panic alarm.
Large alarm button – Easy to press

Long lasting replaceable battery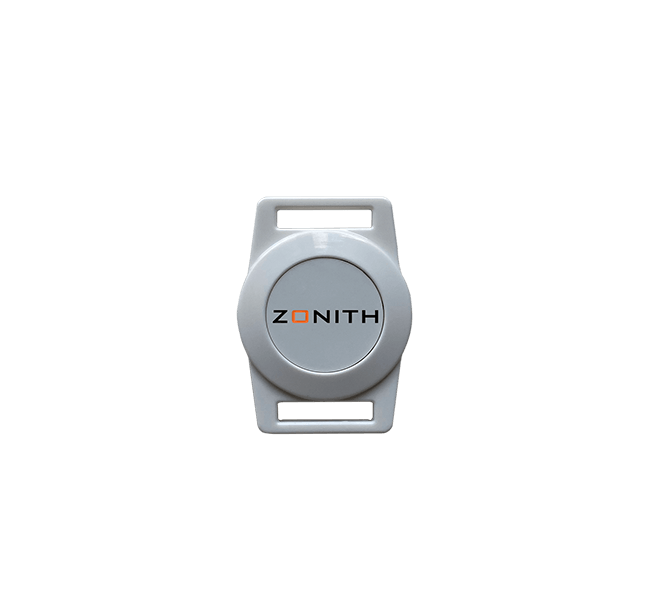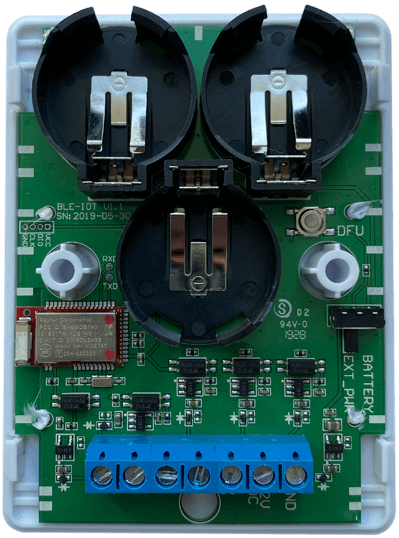 The ZONITH Bluetooth IO Module enables expanding the security network as one solution. The ZONITH Bluetooth IO Module is used for monitoring digital alarm input signals from 3rd party alarm panels and technical installations such as PIR sensors, door lock alarms, CCTV camera alarms, temperature alerts etc. Basically, any alarm with an "open/close" function. The alarm signals are wirelessly transmitted to the ZONITH Bluetooth Receiver and from there passed over to the ZONITH Alarm handling platform.
ZONITH Staff Safety solution provides wireless panic alerting via from panic buttons, ID Badges and SmartPhones. The core of the solution is the Bluetooth Receiver which monitors the panic alarms and provides indoor positioning. The Bluetooth Receivers are IP connected with the ZONITH alarm handling software which provides quick and accurate alarm dispatch.
As there are many 3rd party alarm systems installed with customers the ZONITH IO Module can bridge these systems with the Bluetooth Receiver.
Using the ZONITH IO Module will enable existing alarm panels with IP and Internet capabilities and can also substitute other expensive means of transmission, like GSM or radio links.
Connects to any internet router

Lan cable and power supply included

Wireless connection with Panic buttons and ID Badge

Easy Mounting for walls/ceilings
Let us tell you more!
Fill out this form and we will get in touch with you.