Automatic Handling Of Technical, Fire, Panic And Staff Safety Alarms
The Alarm Control System (ACS) is a platform that improves efficiency at workplaces by ensuring that alarms are handled quickly and by notifying appropriate staff via their smartphones, radios, PC or other wireless devices. Companies and organizations requiring the highest level of safety and stability for the protection of their staff and assets use the ACS.
Operates automatically 24x7x365.

Monitors any technical, fire, panic or staff safety alarm.

Within seconds the alarm output will reach the handheld device of the responders.

Notify individuals or group based on their competencies and schedule.

Passes on the unacknowledged alarms.
The Alarm Control System is able to monitor the majority of alarm sources via its standardized interfaces. It is scalable and can handle small systems with a few critical alarms to large installations with thousands of alarms from many sources.
Detailed fire alarm information goes to handheld devices & PC's, complete with the room, sensor and alarm type for immediate response.

First responders can acknowledge the alarm via a handheld wireless device, saving time and money by avoiding the emergency response from the fire brigade for false alarms. Hotels and restaurants using ACS can avoid unnecessary evacuations.

Assuming the fire is real, doors, gates and other access routes to the facility can automatically open for the fire brigade to enter quickly.
Automation System Alarm Monitoring
Interfaces to automation systems (e.g. SCADA & PLC) via generally accepted industry-standard interfaces. High-level OPC, as well as low-level RS232 interfaces, are available.

Alarms from the automation systems are inspected for their criticality and type. Process alarms go to chemical process engineers, whilst maintenance alarms go to the technician on duty.

Pre-warning alarms can be passed on to the operators on their handheld wireless device. Thus, it prevents the plant from malfunctioning and loosing the production.
Building Management System Monitoring
From data hosting centres to hotels, in-house technical installations must be functioning at all times.

Alarms monitored from Building Management Systems (BMS) include: High or low-temperature alarms, ventilation or air conditioning malfunctioning, water leakages or elevator alarms. Once on, they go directly to the technician on duty on their wireless device, whether on or off-site.
Security Alarm Monitoring
ACS can pick up movement alarms from CCTV cameras during the night and pass on the alarm to the guards on patrol. The guard will then be notified about potential security risks even if they are away from the control room.

Assets, such as paintings at museums or projectors in meeting rooms, can be monitored and if they are moved the guard will immediately receive the alarm on their radio including information about the location of the asset.

Panic Alarms from a security guard in distress are passed on to colleagues.
Alarm Control System Functionality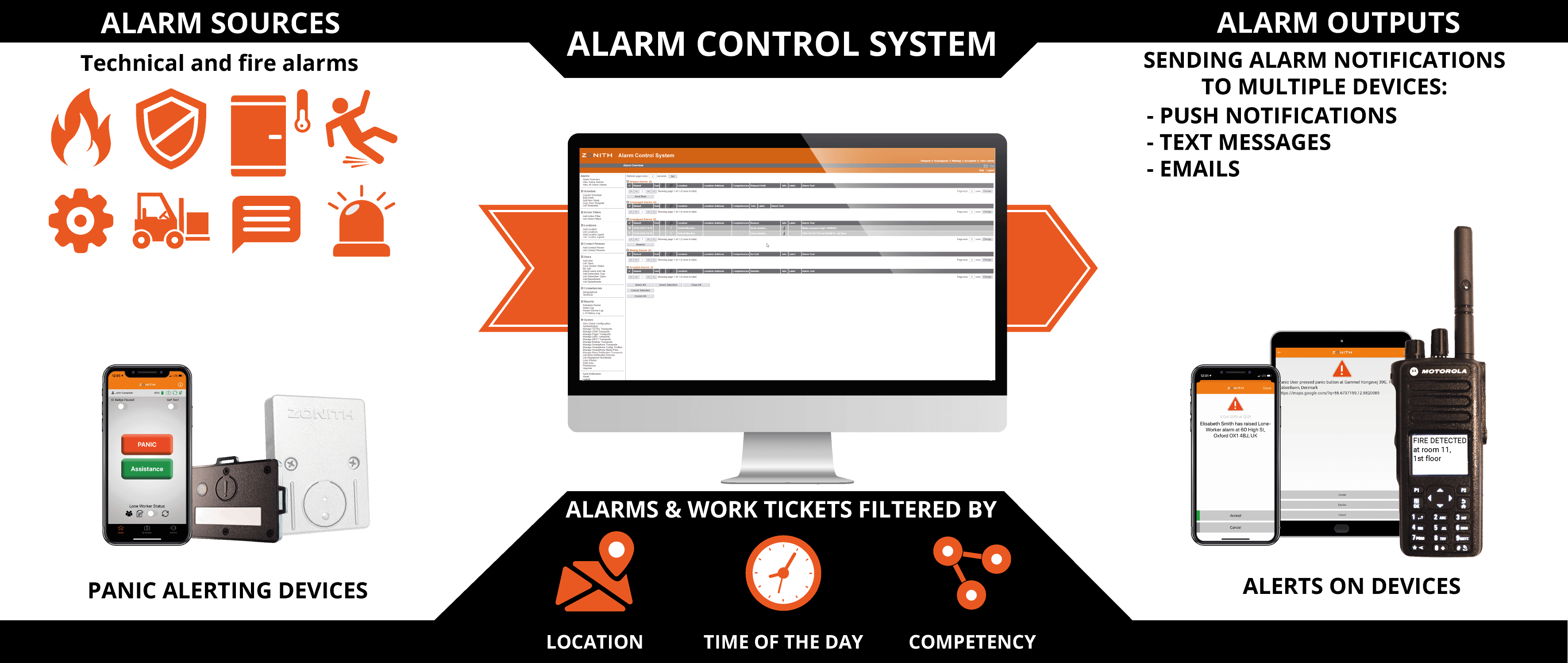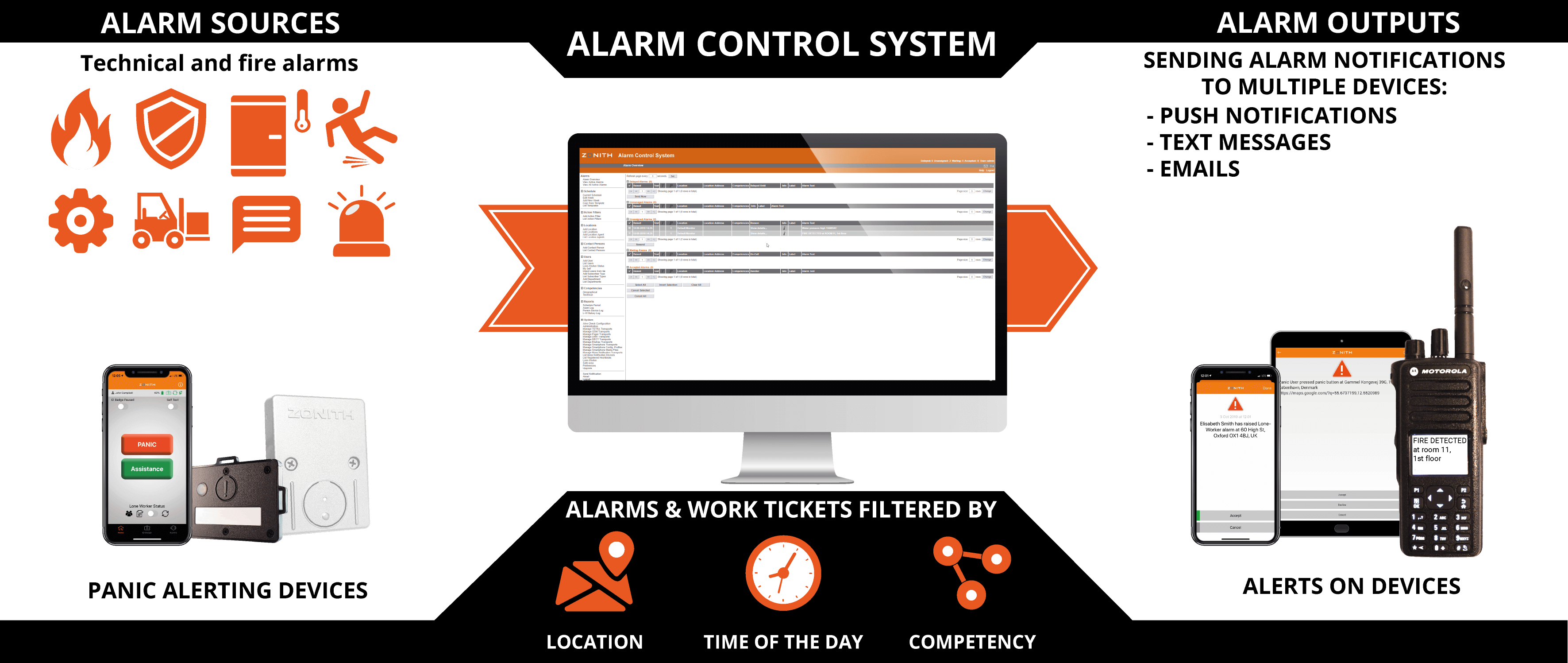 The ACS has standard interfaces for the majority of technical protocols.

The Intuitive user interface guides the user to set-up and monitor inputs, including alarms from radios, serial connections or a variety of other devices/protocols.

Solution can monitor multiple alarm inputs at the same time.
Support for digital radios, GSM phones, SmartPhones and other "off-the-shelf" devices.

Multiple devices can receive alarms at the same time.

For example, technicians can receive machinery alarms on their radios while at work, whilst management can also receive SMS on their GSM phone at home.

ACS's rich reporting features allow administrators to track how long it takes employees to respond, accept & close alarms.
Alarm Filtering, Scheduling, Escalation And Reporting
The ACS is accessible from any networked web browser.

ACS pairs each alarm notification with the right individual based on their competence, location and schedule.

The closed-loop system ensures alarms are acknowledged, resolved & closed. Should an individual decline or fail to respond to an alarm, ACS passes on the alarm to the next available person(s).

ACS's rich reporting features allow administrators to track how long it takes employees to respond, accept & close alarms.
Many organisations around the globe are using the ACS for monitoring the well-being of their staff via a number of add-on modules.
Real-Time Positioning Of Staff
The ZONITH Real-Time Location System (RTLS) integrates both Bluetooth technology to monitor staff indoors and GPS technology to locate staff outdoors.
The RTLS saves lives by providing real-time information about the location of people in need, giving rescuers a tool for a quick response.
Bluetooth Panic Alerting And Positioning
ZONITH Bluetooth ID Badge based panic buttons provide a quick, cheap & convenient way to summon help in dangerous situations. From reception desks to security checkpoints, classrooms & mobile devices, ZONITH's wireless Bluetooth ID Badge panic buttons keep employees connected and safe.
In addition to the panic alerting, the buttons are positioned in real-time using the RTLS functionality. This gives responders and guards the ability to quickly locate and assist any person in danger.
ZONITH Lone-Worker (L-W) periodically pings workers to verify their well-being. Should a worker fail to respond to an 'Alive Check' message an alarm is raised notifying the response team. L-W can switch on when a geo-fence is crossed using the RTLS system mentioned above. For example, if a staff member enters an unsafe area like a boiler room, L-W can automatically switches on. When they return to the safe area like the break room, L-W switches off.